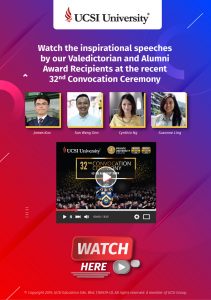 Congratulations to UCSI Alumni Achievement Award recipients 2019
For the very first time, UCSI University presents the Alumni Achievement Award. This year, UCSI has selected from among its alumni, one exceptional organisation and two individuals, who has been instrumental in their contributions towards their own field and society in general.
Heartiest congratulations to all the Alumni Achievement Award recipients, Suzzane Ling, Lim Yuet Kim, Lee Swee Lin, Cynthia Ng and San Weng Onn who received the award in the UCSI University 32nd Convocation Ceremony on 17th and 18th August 2019.
Let's understand some background of the Award receipients and we will start from the exceptional organisation, PichaEats. PichaEats is a Kuala Lumpur-based social enterprise, which partners refugees in Malaysia in a catering and delivery business.
The main objective of PichaEats is to provide financial empowerment to marginalized groups in Malaysia in order to build sustainable livelihoods, especially those from Syria, Palestine, Iraq, Afghanistan, Myanmar and Pakistan. This social enterprise is founded by three of UCSI University's alumni in 2016. The founders are Ms. Lim Yuet Kim, who graduated with the Bachelor of Contemporary Music (Hons) in 2016, Ms. Suzanne Ling Sook Shian, who graduated with the Bachelor of Arts (Hons) in Psychology in 2017, and Ms. Lee Swee Lin, who graduated with the Bachelor Suzanne of Arts (Hons) in Accounting and Finance in 2015.
Next, Ms Cynthia was the Valedictorian of Class 2007 and graduated from UCSI University with the Bachelor of Arts (Hons) in Mass Communication. Ms. Cynthia is an anchor, editor and journalist for Astro Awani, the country's leading 24-hour news channel, covering national and international news stories. She is also an anchor for Hari Ini 8, the channel's prime time news program.
Ms. Cynthia has vast experience in the industry and has in-depth knowledge on various sociopolitical and socioeconomic issues. In fact, in November 2014, Ms. Cynthia earned an award by the Health Ministry for her report entitled, "Drugs and HIV among fishermen in Kuantan" which zoomed in on HIV-prevalence drug addicts among fishermen.
Among the most notable interviews she has conducted are with American business magnate, investor, philanthropist, and political donor, Mr. Sheldon Gary Adelson and the 18th President of Portugal, Mr. Jorge Fernando Branco de Sampaio. On July 30, 2019, Ms. Cynthia interviewed the 16th Yang di-Pertuan Agong, Al-Sultan Abdullah Ri'ayatuddin Al-Mustafa Billah Shah during his coronation.
Lastly, Mr. San Weng Onn is a Malaysian composer for film, television and various stage productions. He graduated with the Bachelor of Classical Music (Hons) from UCSI's Institute of Music in 2005 and later on, he went on to complete the Master of Fine Arts degree in Musical Theater from the prestigious New York University, TISCH School of the Arts in 2010.
Mr. San has won several awards including
• "Best Original Music" and "Best Musical Director" for the musical, Everworld;
• "Best Musical Director" for Marrying Me the Musical
• "Audience Choice Award" for The Secret Life of Nora
• "Best Original Score" award for the critically-acclaimed Malaysian film, Ola Bola.
In fact in 2017, Mr San was chosen to compose the music for the official ceremony of the 9th ASEAN Paralympic Games. His inspiring scores for Ola Bola was also performed by the Malaysian Philharmonic Orchestra (MPO) making it the first of its' kind in Malaysia.